---
MOTOR COURTS AND THE MOTHER ROAD
by Laurel Kane

If youíre looking for a great old road, still filled with motels in all manner of condition, you need to look no further than the old Route 66. Iíve been an aficionado of Route 66 for years, ever since I traveled it in its heyday in the 50s with my parents.
Of course, back then I didnít know that it would be decommissioned in favor of the Eisenhower Interstate Highway System, nor that it would become an icon in the 90s, with multitudes of books, articles, and videos produced about it and the people along it, but Iím very pleased to say that I was in on the ground floor of the resurgence of appreciation of this venerable Mother Road.

To go into itís history would be foolish here. Instead I will simply refer you to the following website,NATIONAL HISTORIC ROUTE 66 FEDERATION, where you can learn all about the ribbon of highway which stretches from Chicago to Los Angeles. Putting "Route 66" into a search engine will afford you thousands of entertaining and informative sites as well.

My involvement with Route 66, the force which guides me as I travel the road a couple of times each year, is ...... you guessed it..... MOTELS! Iíve been collecting vintage postcards of the old sites along Route 66 for many years, and at present have over 5,000 of them. Of those, I estimate almost 3/4 of them are of the old motels and lodging places that stretch across the highwayís length from the Great Lakes to the Pacific Ocean.


When I travel Route 66, I love to seek out the old motels depicted on my postcards and photograph them in their current state. Sometimes this is depressing, such as when there is a WalMart on the former site of a beautiful Deco gem or when thereís not much left but a rotting hulk of a mom-and-pop motel that barely reveals itís former grandeur. That, of course, is what happens when a road is diverted and tourists fly past just a few yards away on a big, impersonal Interstate, eager to get to the next Motel 6.

Sometimes, the news is better. Some motels exist in a second life.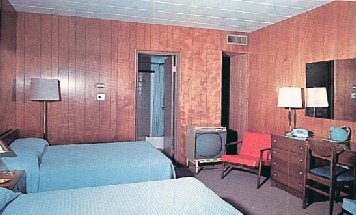 A few become antiques malls, or they become resident apartment complexes, or take on other uses that causes their structure to remain recognizable. Some still even have their original signs.

Motels that are structurally sound but arenít motels any more are still sad to me, but not as sad as those which are disappearing or have disappeared completely.

On the other hand, many continue to flourish! The good news is that all along Route 66, the tenacious spirit of its good citizens is evident. Often, motels are still open, still attractive, and still inviting. They might even be operating under the same name they sported 40 or 50 years ago. Some original owners, despite being elderly, are still around. Some have handed down their property to family, and some have
sold to people like me, who have always wanted to own a motel by the side of the road.

The motels may seem old-fashioned, and a traveler might have to put up with a pink-and-black tile bathroom, or a mattress thatís seen better days, or lack of 100-channel cable TV in every room, but the trade-off, to me, is worth it. Staying in an old motel is saving a piece of Americana. It is activism at itís finest.

POSTCARDS FROM THE ROAD
---
| MESSAGE BOARD | WEBLINKS | ONLINE STORE | FEATURE ARTICLES | HOME |