---
OPALESCENT GLASS -- OLD & CONTEMPORARY PIECES


by Dan Simmons

First produced in England in the 1880's, opalescent glassware's popularity continues into the present with the production of contemporary pieces as well as a market for the collection of older ones.

Opalescent glass is characterized by milk white trim and accented pattern design against a clear or colored background on blown or pressed glass. When a piece of opalescent glass is held to a strong light a golden glow resembling an opal is created, thus the name. The effect with a piece of glass is created by the glassmaker applying a layer of clear over the piece and refiring it once or twice until the desired effect is created. This process requires a skilled control. Having generally defined opalescent glass, it would also be helpful here to point out a term which I sometimes see confused with it. Iridescence is the term used to describe the rainbow effect created on carnival glass pieces.

Most major American glass companies produced some opalescent glass after its development in England just after the turn of the century.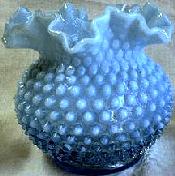 Many of the old pattern glass pieces were produced with opalescence, as well as novelty and decorative pieces. Since its peak popularity, some glass companies have continued to offer a few items or lines in opalescent, either in new designs, re-issues from old molds, reproduction of old pieces, or look-alikes. Fenton deserves special recognition for its continued production of widely collected high quality opalescent glass.

Prices for opalescent glass remain quite reasonable, with the older blown pieces usually being the most expensive to the very modest cost of small contemporary giftware. The continued production of opalescent glass for the last century by so many different companies offers awealth of collecting choices.


---
| MESSAGE BOARD | WEBLINKS | ONLINE STORE | FEATURE ARTICLES | HOME |