---
RACK CARDS
by Ralph Muscarella

(AKA Rack Card King)
Rack Cards are probably the hottest thing to happen to postcard collecting in ages! What is a Rack Card? Let me tell you.
Advertisers have long searched for ways to reach the public. Billboards, newspapers and magazines, followed by radio and television, and now the Internet are all ways advertisers use to put their product or service in the public eye. Rack Cards first came upon the scene about ten years ago and mirror many of the ads you see in magazines or on billboards today. In the United States they are published by two major companies (GoCards and m@xRacks) and other smaller publishers (BonCards and 1-800-Postcards). They are distributed in mostly in major cities. They are also produced in Canada and Mexico, as well as many European, Asian, and South American countries.
These continental-sized postcards, measuring approximately 6" x 4 ¼", are very professionally printed on heavy stock, and, best of all,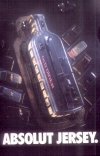 there are new ones issued every month! They advertise things we all use every day including toothpaste, candy, soft drinks, clothing, alcoholic beverages, toys, cars, computers, etc. They are also issued to promote movies, local shows such as Broadway plays, various events, social causes, and local venues such as restaurants, museums, art galleries, and the like. These local venue cards seem to be the most desirable since their circulation is limited to a particular city, or perhaps are available only in the venue itself.
Even if you don't collect traditional postcards, these Rack Cards may fit into other collections. Let's say you are a Disneyana collector. How would you like a Rack Card which advertises Beauty and The Beast on Broadway? If Star Wars is your area of interest, how about a Rack Card showing C3PO at the Smithsonian? Sports? Plenty of sports stars are shown on Rack Cards including Joe Torre, Tiger Woods, and Michael Jordan. Some other popular themes are movies, gay and lesbian-related subjects, sexy women and men, animals, TV shows, tattoos, and many others. In one way or another, Rack Cards picture or advertise just about any topic you can imagine.
Folks who are fortunate enough to live in or near a city where Rack Cards are distributed will engage in a practice which has become known as Racking, trying to locate Racks and scoop up the new cards as they are issued. Racks are most often found in restaurants and bars, but may also be found in record shops, book stores, museums, or even some college bookstores.

There are literally tens of thousands of cards in existence, and probably several hundred new ones published every month! Of course, not everyone lives in or near a city where there are Racks so they must rely on friends who are, or dealers who usually sell these cards at prices ranging from $.50 or $1.00 each to as high as $3.00 each for the unusual or hard to find cards.
---
| MESSAGE BOARD | WEBLINKS | ONLINE STORE | FEATURE ARTICLES | HOME |