Silverton, CO

Shiprock, NM
In Navajo legend, Shiprock is Sa-bit-tai-e, the rock with wings,
a great bird that brought people to this land from the north.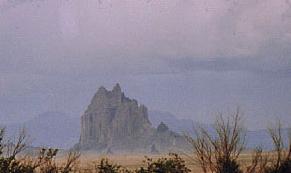 Gallup, NM
Gallup, a wide stretch on I-40 and historic Route 66, the Mother Road,
is a destination for original, authentic Indian arts and crafts.
Formally opened December 17, 1937, The El Rancho Hotel was built by the brother of the movie magnet, D.W. Griffith. Drawn by the many films made in the area, Ronald Reagan, Spencer Tracy, Katharine Hepburn and Kirk Douglas were among the many stars listed in the guest register. Autographed photos of the stars, Navajo rugs & mounted trophy animal heads adorn the two story open lobby with its circular staircase.